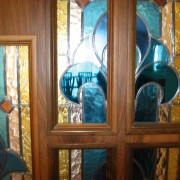 An exclusive apartment in the prestigious and sought after Lozenets District.
This luxurious and comfortable spacious dwelling, offering numerous amenities and with a wonderful view to the Vitosha mountain, will make the perfect Sofia home.
Type: luxurious four-bedroom apartment | after overall repairs | move-in ready
Location: James Bourchier Blvd | Lozenets District | Sofia
Size: 260 sq. m.
Floor: 5th of 6
Description: a spacious living-room with a fire-place and a stained-glass window swing-door | a dining room with a fully furnished kitchenette with all appliances | a master bedroom | two bedrooms | a study with an en-suite bathroom with a shower-cabin | a big bathroom with a jetted bath and a four-person sauna | a guests toilet | two walk-in closets | two terraces | a laundry room | an entrance hall
Finishings: high-quality | walnut parquet | granite | terracotta and feience | PVC joinery | outer blinds
Amenities: security alarm system | cabling | cellar | parking places in the building's yard
Price: Please, contact us for information.