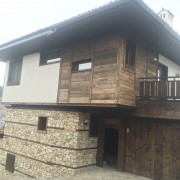 An beautiful house, modern and yet planned in the best traditions of the characteristic Bulgarian 19th-century architecture, located in the heart of the historic town of Koprivshtitsa, cuddled among the picturesque hills of Sredna Gora mountain.

Type: guest house
Location: Koprivshtitsa, 3, Mangar Voivoda St.
Size: 220 sq. m.
Floors: 2
Description: 1st floor — an entrance hall | a bedroom | a bathroom || 2nd floor — a living-room with a dining area and a kitchenette | a bedroom | a bathroom || garden
Finishing:  luxurious
Furnishing: fully-furnished
Amenities: a parking place | two fire-places | local heating | cabling | security alarm system
Rent & Booking: Please, contact owner for information.