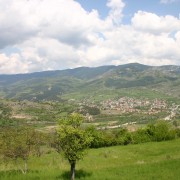 Located in the beautiful central Rhodope mountain, near the village of Hvoyna, among forests, rivers and mountain trails, conveniently close to winter and spa resorts, natural and places of historical interest, the plot is perfect for developing a residential village, a brain-storming centre, a retreat centre, a scout centre, an alternative medicine centre, etc.
A residential village project has been developed for the plot — Green Village, comprising houses, an apartment house, a hotel, a restaurant, a spa centre, etc.
Type: plot | village project
Size: 56.000 sq. m. plot | 33.000 sq. m. total built-up area complex
Location:  Hvoyna | Bulgaria
Plot description: two plots — 53.000 sq. m. and 3.000 sq. m. | 1 km away from village of Hvoyna | year-round access | preserved internal infrastructure | existing fence around || bigger plot — concept project for village with traditional local architecture developed | smaller plot — suitable for more modern hotel complex project development
Village project description: 74 houses | apartment house with 104 apartments | hotel with 30 rooms | restaurant | spa centre | piano bar | underground garage | covered pool | sports area | gym

Amenities: open area with abundant sunshine | village project developed on terraces with gradually increasing construction height, allowing panoramic views from and letting sunshine to all properties | environmentally friendly concept — underground garages, alternative geothermal sources and solar collectors, etc. | proximity to winter resorts (winter sports), various beautiful places of interest (summer tourism) and numerous mountain trails (biking and motocross), surrounded by forests and rivers (hunting and fishing), availability of sub-terranean waters (water-mill, electricity generator, swimming pools) and thermal water (own mineral water source) | possibility to build self-sufficient village with own church, cultural centre, shops, etc. | alternative year-round or time-share residence
Ownership: current — company ownership | future — subject to negotiation
Financing: subject to negotiation | possibility for financing through European Agricultural Fund for Rural Development Europe Investing in Rural Areas programme
Budget: Please contact us for information.